Solar Air Conditioner Description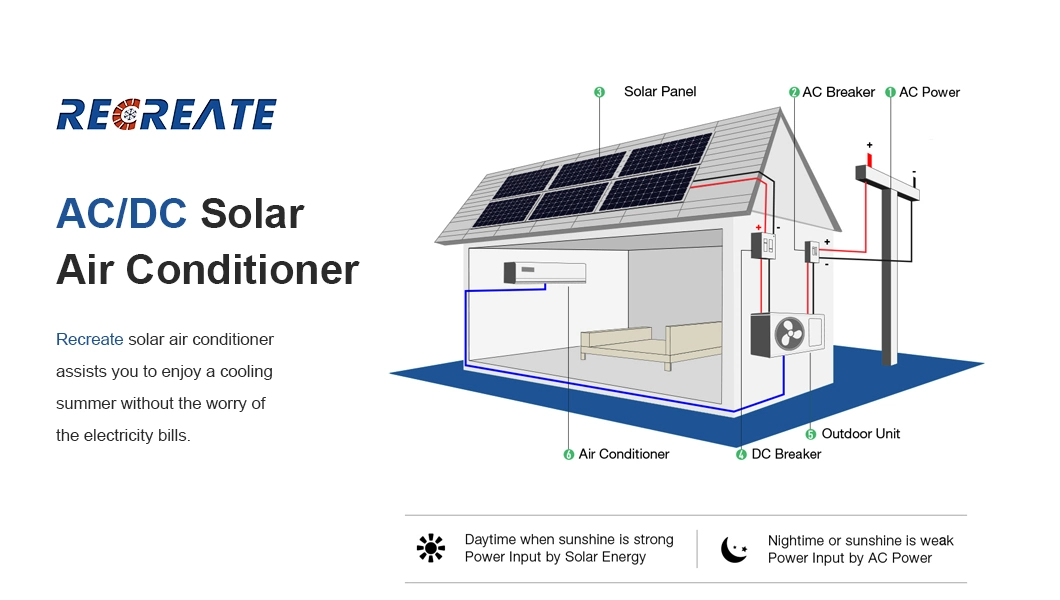 What Is Solar Air Conditioner
Recreate Hybrid Solar air conditioner is engineered from the ground up for use with solar.All electrical components are DC powered including compressor,high-efficiency DC fan motors,DC valves&solenoids,etc.
The Recreate's system uses a VRF(Variable Refrigerant Flow)controller and frequency driver in conjunction with multiple sensors and an algorithmic control circuit to raise and lower the unit's capacity in real-time based on conditions as they change.Recreate Hybrid Solar air conditioner are more powerful and use less energy than a fixed speed air conditioner.
Recreate is the inventor of world's first true Hybrid Solar air conditioner.Using Recreate's Solar direct drive technology(SDDA) the Recreate Solar Hybrid unit can use Solar DC generated power or mains AC generated power,or a combination of both as required.This means that the Recreate Hybrid requires NO batteries,NO inverter,NO controller and need only a few PV panels to deliver a huge saving.Under optimum conditions,this can save up to 97% of your mains power usage.
The SDDA will use as much solar energy as is available and this solar energy directly replaces the equivalent amount of AC power from the mains provider.Under enough solar power conditions,the Recreate Hybrid can normal operation without AC generated power.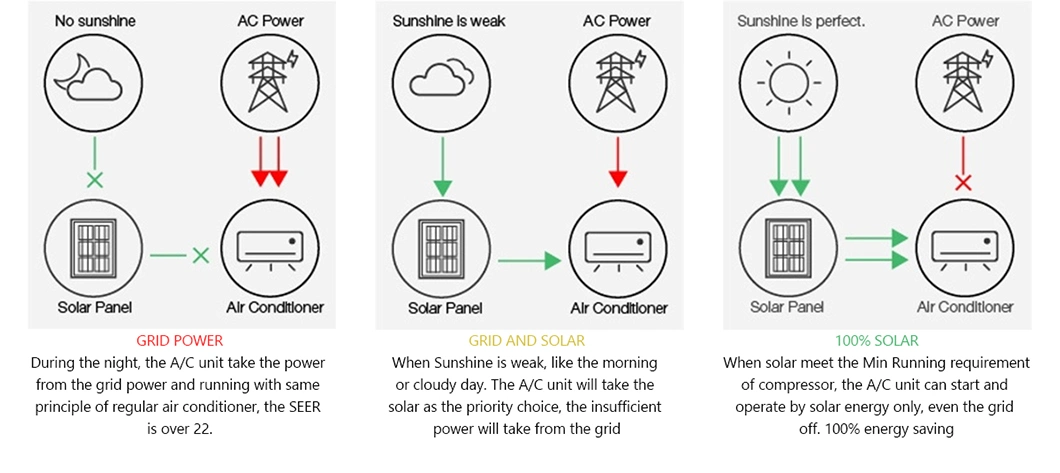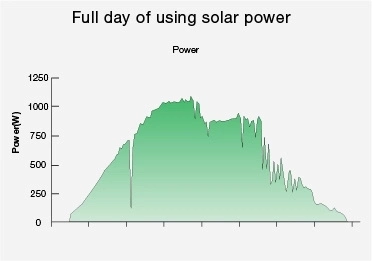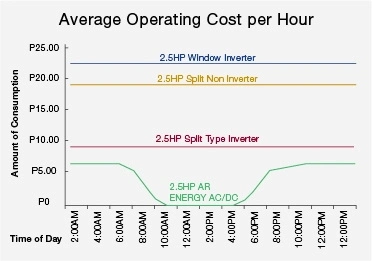 Benefits of Recreate ACDC Hybrid
1. Connects Directly to the Solar Panel Runs on up to 100% solar power directly in daytime that would save you up to 97% of your power bill.
2. Easy Solar Connections Connection from the solar panels to the Recreate Solar Hybrid outdoor is very simple with a terminal block mounted in the outdoor unit for the positive and negative cables straight from the solar panels.
3. Super applicability Wide operating temperature range-10ºC to +52ºC,Meet T3 work environment Wide operating AC voltage rangeAC 160V-250V,meet the remote network voltage instability area.
4. Super energy-saving and Super Cooling performance Super Cooling performance is ensured by big compressor together with the greatest heat exchange system.SEER up to 36 with solar,22 without solar.
Common Application
home / office / school / remote telecom station / desert location / island location / bus station...
A/C Unit Description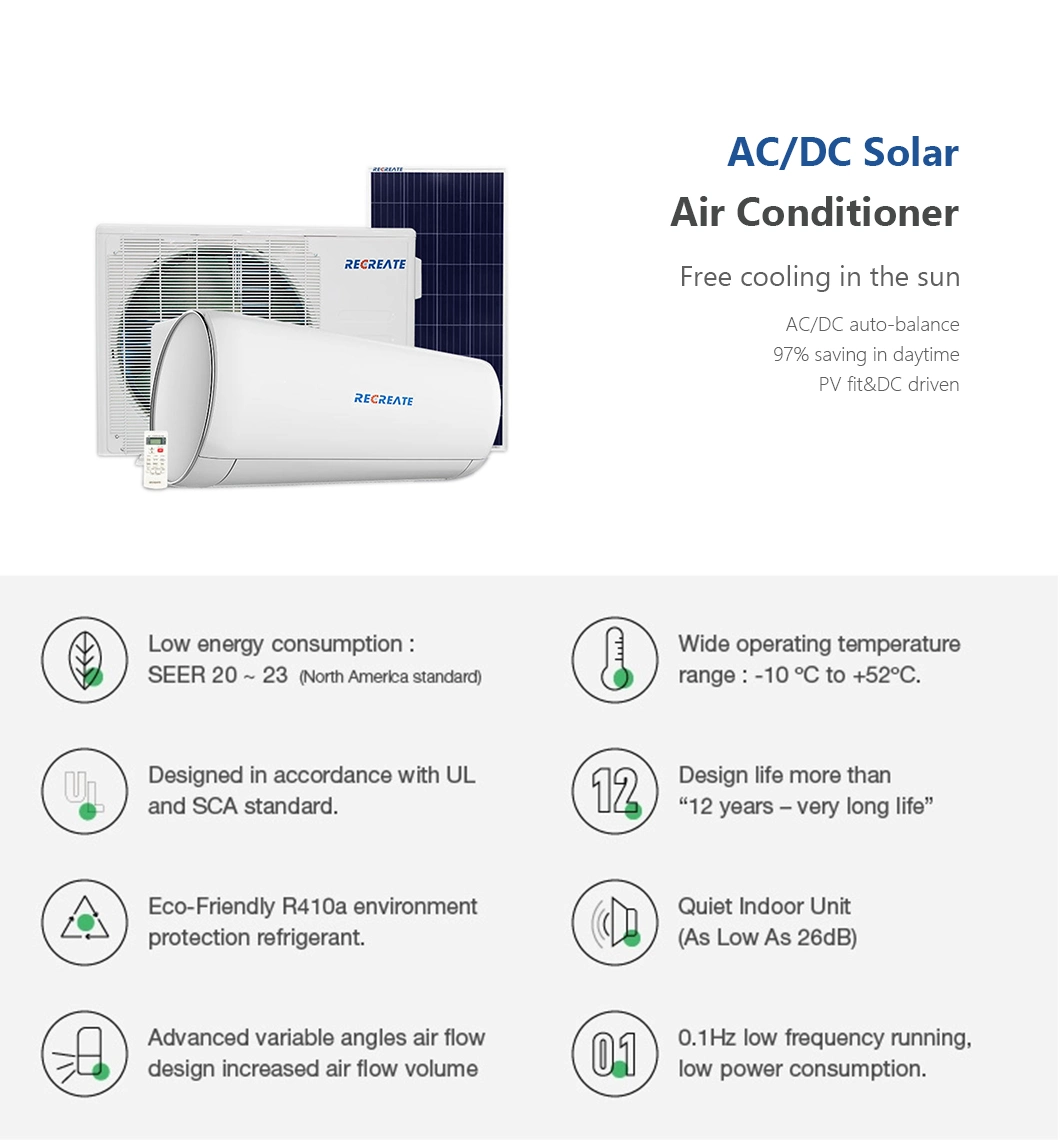 Model No.
RC-ADC12GW-XA
RC-ADC18GW-XA
RC-ADC24GW-XA
Power Supply
Solar Power
V
DC90-380V MAX.15A
AC Power Connected
V
200-230V(50/60Hz)
Cooling
Capacity
Btu/h
12000
18000
24000
Inverter Capacity Range
Btu/h
3099-12987
3482-19389
4294-25280
Power Input
kW
0.98
1.51
1.87
Rated Current(AC)
A
4.46
6.2
8
SEER
22
20
20
EER
12.6
12.1
12.1
Heating
Capacity
12,000
17,200
23,800
Inverter Capacity Range
Btu/h
3753~13306
4435~19789
5100~23542
Power Input
kW
1.12
1.29
1.82
Rated Current
A
5.93
6.08
8.08
HSPF
11
10
11
COP
12.1
11.6
12.7
Dehumidification
pt/h
1.3L/h
1.9L/h
2.3L/h
Indoor Air Flow - (Hifan)
cfm
660
1080
1210
Indoor Noise dB(A) (Hifan)
dB(A)
40
45
47
Max Refrigeration Pipe Length
ft/m
15
15
15
Max Refrigeration Pipe Rise/Fall
ft/m
5
5
5
Max Elevation Difference
15
15
15
Design Pressure
psig
550 / 340
550 / 340
550 / 340
Connection
Type
flare
flare
flare
Connection Wiring
AWG
4*18AWG
4*18AWG
4*18AWG
Operation temperature
Indoor (Cooling/Heating)
ºF
60.8 - 89.6/ 60.8 - 89.6
60.8 - 89.6/ 60.8 - 89.6
60.8 - 89.6/ 60.8 - 89.6
Outdoor (Cooling/Herating)
ºF
50- 125.6/5-104
50- 125.6/5-104
50- 125.6/5-104
Indoor Unit
Dimension(W*D*H)
mm
895×300×203
1000×310×240
1130×320×245
Packing(W*D*H)
mm
1080×385×327
1080×385×327
1195*310*390
Net/Gross Weight
kg
9/11.1
12.5/14.5
15.5/17.5
Outdoor Unit
Dimension(W*D*H)
mm
795×290×555
795×290×555
860×304×733
Packing(W*D*H)
mm
910×400×630
910×400×630
1005×450×820
Net/Gross Weight
kg
31/35
35/39
51/55
Approvals
CB/GCC/ Performance Certified
Container Load 20'/40'/40'HQ
84/177/206
78/171/179
54/115/128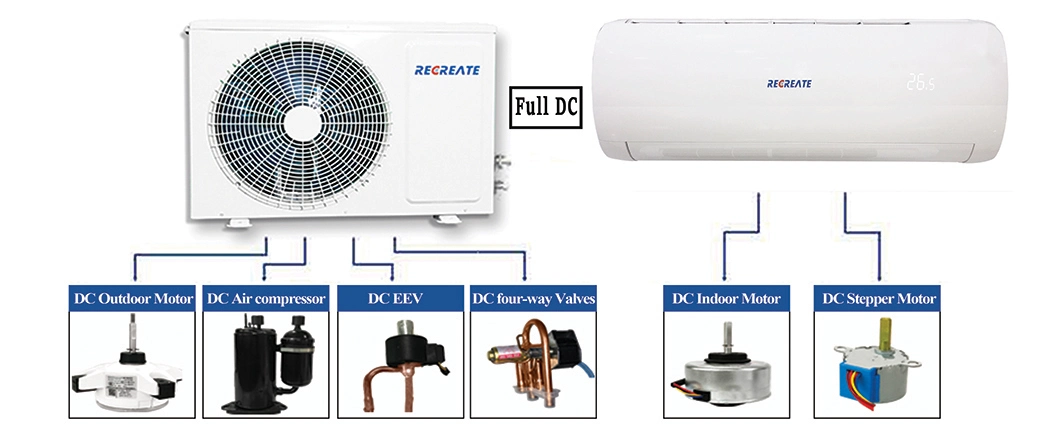 Solar Part Description


Certificate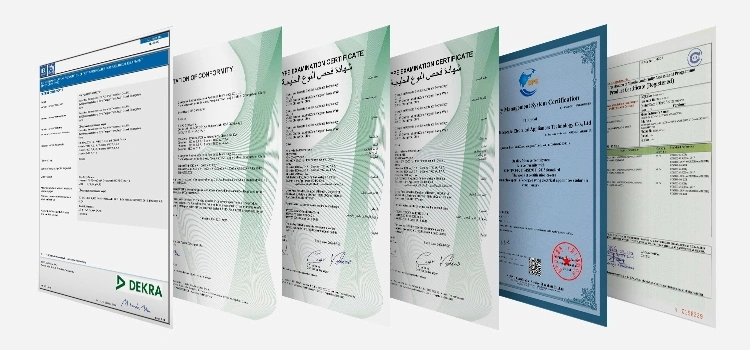 Our Factory