3 meter HVLS energy saving Large Industrial Ceiling Fans with Permerment Magnet Motor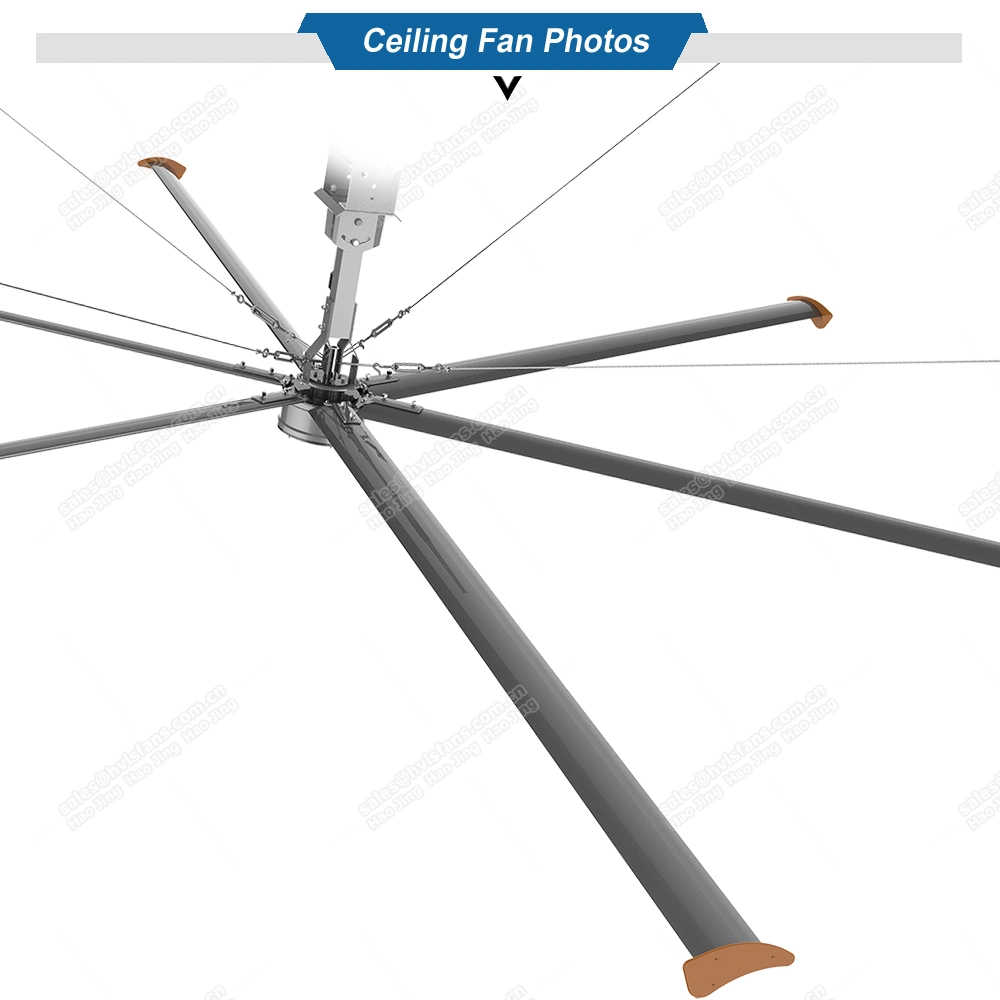 Model:
HJCF-3
Size:
10 feet
Power:
370W
Air Volume:
4200 m3/min
Coverage Area:
260 m2
Fan Motor:
Permanent Magnet
Energy Gearless Saving
Motor
Fan Blades:
4 pcs
Speed:
0-120 rpm
Noise:
38dB
Advantage:
1. Energy Saving, compare to industial small pedestal fan, energy saving 85%.

2. Large size, 8 feet to 24 feet, 2.4 meter to 7.3 meter.

3. Gearless Permanent Magnet Motor.

4. Less maintaining.

5. 20 years long sevice life design.

6. Low speed, 0 to 120 rpm, infinitely variable speed.

7. High safety factor, advanced design, ensure that the process is safe and stable.

8. Intelligent control system.

9. No frequent maintenance required.

10. Only 36dB noise level.

Model

Fan
Diameter Size

Power

Air Volume

Effective Area

Coverage Area

Rotating Speed

Nos. of Blades

Level of
Noise
Voltage /
Frequency

(Feet)

(Meter)

(kW)

(m³/min)

(m²)

(m²)

(rpm)

(pcs)

(dB)

(V / Hz)

HJCF-3

10'

3 m

0.37 kW

4200 m³/min

160 m²

260 m²

0-120 rpm

4 PCS

36 dB

3 Phase


220-240V
360-480V



Single Phase


200-240V


50Hz
/
60Hz

HJCF-3.7

12'

3.7 m

0.37 kW

5200 m³/min

240 m²

400 m²

0-100 rpm

4 PCS

36 dB

HJCF-4.3

14'

4.3 m

0.75 kW

7300 m³/min

270 m²

470 m²

0-90 rpm

4 PCS

37 dB

HJCF-5

16'

5 m

0.75 kW

10600 m³/min

310 m²

530 m²

0-80 rpm

4 PCS

37 dB

HJCF-5.5

18'

5.5 m

1.1 kW

11500 m³/min

520 m²

940 m²

0-70 rpm

6 PCS

38 dB

HJCF-6.1

20'

6.1 m

1.1 kW

12100 m³/min

610 m²

1100 m²

0-60 rpm

6 PCS

38 dB

HJCF-6.7

22'

6.7 m

1.1 kW

12500 m³/min

670 m²

1400 m²

0-55 rpm

6 PCS

39 dB

HJCF-7.3

24'

7.3 m

1.1 kW

13500 m³/min

730 m²

1600 m²

0-50 rpm

6 PCS

39 dB

HJCF-6.7

22'

6.7 m

1.5 kW

14500 m³/min

790 m²

1700 m²

0-55 rpm

6 PCS

40 dB

HJCF-7.3

24'

7.3 m

1.5 kW

16000 m³/min

900 m²

1850 m²

0-50 rpm

6 PCS

40 dB